IT consultancy, on-site and remote IT support
Hardware and software maintenance
Exchange, IIS, SQL and ISA servers support
LAN design and deployment (CAT-5+ cabling)
VPN secure network access implementation
Disaster recovery
Database development
Web design, hosting, e-marketing, SEO
AVG - Anti-Virus and Spyware solutions
Revealing costly misconception about computer support, repair and much, much more.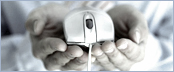 At Syncture, we strive in providing cutting edge IT Services at affordable rates. Were so confident in our services that if we can't solve your problem, the times on us.

Syncture is a full service Information Technology service provider. We provide a comprehensive suite of IT services for small and mid-sized businesses.
Our diverse team approach and wide ranging expertise puts us in a fantastic position to be of service to our clients. Whatever your businesses needs, we can help. Ranging from installing and configuring a router to developing business applications designed around your specific needs.